Schedule and Activities
Daily Schedule
About the time you pour your first cup of coffee, Iyke and his staff have been in the kitchen for a couple of hours and the guides and the dock master are on the dock preparing the boats for the day. Coolers, drinking water and boat equipment are all ready to be picked up by the guides. The guides bring the boats to the main dock in front of the lodge dining room and set up the coolers, ready to load your lunch and drinks.
On your first day of fishing, you will be introduced to your guide, who will assist you with setting up your gear and selecting your flies. He will help you put your lunch and drinks in his cooler and will ensure that all gear is loaded securely into the boat.
6:15 a.m. – Coffee/Tea basket delivered to your porch
6:30 a.m. – Coffee, tea, juice and cold breakfast selections
7:00 a.m. – Hot breakfast and pack-your-own lunch
8:00 a.m. – Depart from lodge dock for guided fishing
4:00 p.m. – Arrive back at the lodge dock
4:00 to 6:00 p.m. – Bar snacks, drinks, shower and relax
6:00 p.m. – Hors d'oeuvres
7:00 p.m. – Dinner
Anytime
– Cold beer, cocktails, snacks.
---
Other Activities
While Mangrove Cay Club is primarily a fishing lodge, Mangrove Cay is a wonderful place to spend some non-fishing time as well. During your stay, you are welcome to use the lodge beach cruisers to explore Mangrove Cay, the local town, which has a nice seaside bar as well as some very colorful characters: sponge fishermen who are happy to show you their catch. Bahamians are very devout people and the town also has some very picturesque churches that are spread throughout the town.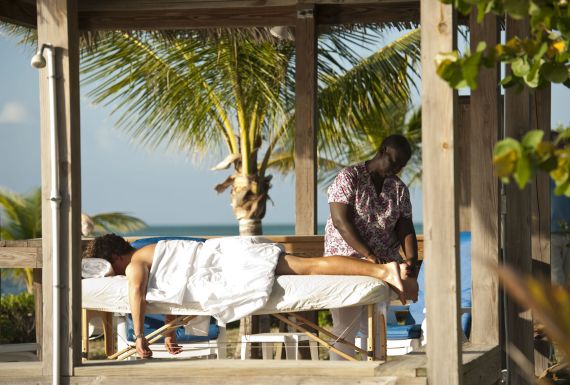 For those of you seeking to stay in shape while you are at Mangrove, the island is a wonderful place to run. We do encourage you to run in the morning, however, as it can get pretty warm in the afternoon.
Andros Island is home to the world's third largest coral reef, a few short miles off the eastern coast. This reef structure, along with Mangrove's abundant blue holes, provide wonderful diving opportunities. We work with a local divemaster and are happy to arrange a diving trip for you. There is an extra charge for this, and you can pay the divemaster directly.
If you would like to snorkel, the lodge has some snorkel equipment that you can take with you on your fishing trip. You may want to bring your own fins and borrow a mask and snorkel from us. Just let your guide and Liz know that you want to snorkel. It makes for a great, refreshing break from fishing. There are coral heads between the shore and the reef that offer a fabulously diverse snorkeling experience in about 15 feet of water.
Like many marine environments, Mangrove is home to a great variety of birdlife. We encourage you to bring binoculars with you to add to your life list of birds. There are bird books at the lodge.
During certain months, we do offer non-fishing package prices at the lodge. Please contact us at 406-222-0624 or 242-369-0731 for more information.